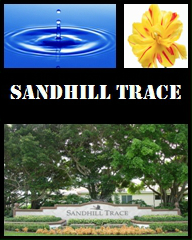 ... originally built by Pinetree Homes and Delcrest Homes, Inc. these layouts maximize both front and back views of surrounding scenery. Built by custom builders, with upgraded features, these 47 distinctive homes offer panoramic views of golf and nature.
BRIARWOOD 3 Bdrm, 3 Bath 2632 sq.ft. a/c
CAMBRIDGE 3 Bdrm, 3 Bath, Den 2777 sq.ft.a/c
DORAL 3 Bdrm, 4 Bath, Den 2965 sq.ft. a/c
WEDGEWOOD 3 Bdrm, 3 Bath, Den 3030 sq.ft. a/c
ARBORWOOD 3 Bdrm, 3.5 Bath, Den 3053 sq.ft. a/c
ESSEX 3 Bdrm, 3 Bath, Den 3087 sq.ft. a/c
Disclaimer: Floor plans and area calculations are as stated in offering plans and may differ from actual conditions. Every effort has been made to maintain the accuracy and precision of the information furnished. However, no guarantee expressed or implied is made by the Sandy Jacobellis Group.